Production technology
We are specialized in coldset web offset printing, a process in which ink is transferred from the printing plate to the paper indirectly and allowed to dry naturally through evaporation and absorption. The post-press (print finishing) also enables cutting of the product from three sides, its gathering and V1 binding, insertion of supplements and card gluing onto the product.
Pre-press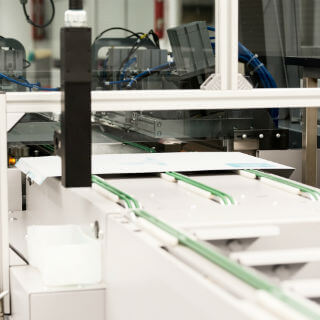 The printing plant receives data in electronic format. We check the data and produce printing plates. Then the image is transferred from the plates to the paper. That is why the MAFRAPRINT printing plants have five CtP (Computer to Plate) imagesetters. In this technology the laser produces an image directly to a printing plate without the use of other materials. Then these printing plates are continuously processed in the plate processors.
Print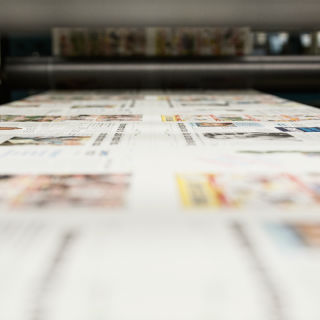 Two printing plants – Prague and Olomouc – have the total production capacity of seven printing presses. These are web presses, which means that the printing paper is unwound into the machine from paper reels and then it is cut. Each machine has a capacity of up to 37,500 copies per hour with up to 96 tabloid pages or 48 Berliner pages. Each product can have one section (paper sheets that are folded together into one section) or more sections. During printing the resulting product can be bound (V1 binding – wire stitching) at the full production speed. All the printing machines have an automatic register guidance system, which checks the precise register adjustment of all four process colors.
Binding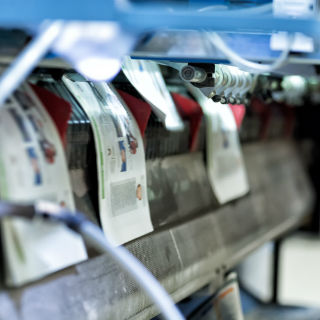 The printing plants are not only equipped with the printing machines, but also with increasingly requested print finishing equipment. A frequent request is to change the format of the resulting product. For this option, the printing plants have trimming drums, which are integrated directly into the production lines, and are able to continuously trim the product from three sides. The V1 binding line enables gathering and stitching of the inner section (newsprint pages) with the cover (coated paper).
Mailroom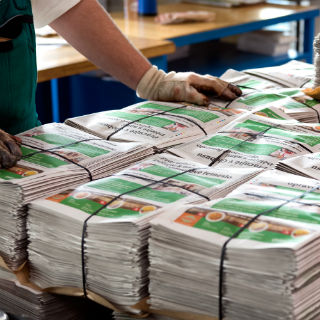 MAFRAPRINT printing plants have seven mailroom equipment lines. Each mailroom line consists of the conveyor chain, which transports products from the printing machine for further processing. There is also the inserting drum, which enables inserting of three additional supplements into the main product and the card gluer that applies A6 or A7 advertising cards onto the newspaper product. And there is a stacking system. All these jobs can be performed at speeds up to 30,000 products per hour.